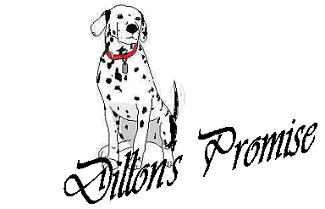 Dillon's Promise

began because of a very special dog.
A hard to adopt dog. A dog that got the attention of a group of Service and Therapy dog handlers and trainers and started them on a journey.
Dillon's Promise
was named after the dog mentioned in the story
below, a dog that no one ever asked about. That was scared and hurt. That was what we label "hard to adopt". That, because of that label, often finds euthanasia not a home. Because of Dillon's heart and spirit, we chose to name our program in honor of him. Dillon represents the hundreds of dogs and cats that have touched our hearts and lives.
Dillon's Promise
is "to try to find homes for the "hard to adopt" animals by training and socializing them first. Our desire is to give animals the chance to find a home by teaching them how to be "good" pets.
So many never had any attention, let alone the right attention.
Adopting a friend:
Dillon's Promise only asks for what you can share, blankets, food, beds, or help with medical costs when adopting a pet. We look for homes where our animals will become part of the family, to love and be loved. We reserve the right to do a home visit and background check on anyone interested in our animals.
We strive to assist shelters in adoptions,educating the public about spay and neuter, and training. We support all dedicated rescues when requested with our strongest skills...education of dog behavior, training, and successful placement through veternarian references, potential owner interviews, and temperament screening of all adoptees.
Dillon's Wish
, if he could speak with more than his eyes and tail wags, would be that each of us SPEAKS and ACTS for those creatures in need.
Please assist animal rescues and shelters, whether with donations or time. The "Dillon's" need you. Those that do rescue need you. God Bless.
Please contact paws2care@care2.com to learn about our pets of the month.
DILLON
( the story of a "hard to adopt" dog )
I was a stray. Brought to a shelter. I remember being on the streets and sleeping wherever I could, eating whatever I could. I don't know about my past family. I searched and searched and couldn't find them. I looked for them whenever anyone came into the shelter, but I never saw them. Maybe that was o.k. I remember being hit for things I didn't understand and being real hungry, and not being able to move because of having a real tight rope on me.
I sure liked the people at the shelter. They gave me something warm to sleep on and all the food I could eat. They were so nice to me and did this thing they called " PETTING" where they rub and scratch you all over and wow it feels so good! There were so many dogs there. The smells and noise really scared me. I wished they would just keep doing that petting thing but there were so many of us to care for.
Days went by. Then weeks. So many people I didn't know walked by me. Many of them thought I looked mean, or was sick because I was thin and had sores on my mouth, or that I would bite them. I tried to look gentle so they might stop and visit, but only the nice shelter people ever did. I was so scared and worried I just stopped trying to be friendly.
Then one day this lady came to look at me. She put a collar on me and hooked a leash to it. She started showing me how to do funny things like "sit", "down", and "walk" without tugging. She petted reallll good and talked to me. She did annoying things like look in my mouth, and in my ears. She was not very pleased when I tried to turn away, or when I tried to bully her by snarling but she kept petting and I realllly liked the petting so I relaxed.
The lady decided I should have a special name and she called me "Dillon". She said she really liked me and whispered in my ear "I guess your mine now Dillon". I sure liked that name DILLON, and the new words, whatever they meant. Pretty soon everyone at the shelter called me Dillon. I felt special and worked very hard to learn my new words and to be "cute", but, more weeks went by, and no one would take me out to visit, no one would let me show them the new words I now knew, no one would even ask about me.
I knew that I was there a long time. I heard the nice lady ask about "time being up". The shelter people told her that there were just so many of us. Everyone sounded so sad.
I had given up. Who wants a skinny, dirty dog that isn't cute like a puppy or a kitten ? BUT one morning I remember hearing the door open to my cage and those words my lady would say "I guess your mine now Dillon" as she put a leash on me and led me to her car. For some reason I felt scared of the car and she had to lift me into it. I was to scared to move.
I had to go to a doctor first where I got shots. I didn't like that much, but the doctor, his name was "VET" was very nice. He said it looked like I had been hit by something, maybe a car because I had some injuries that would heal. No wonder I didn't like that car, it hits! The lady hugged me so I wasn't too scared and, after paying something called a "bill", said with a sigh "I guess your mine now Dillon". Did I tell you how much I like hearing that ?
After the doctor's we went to the lady's home and YUK! A bath. I think that is worse than a car. I really didn't want a bath, but the lady got into it with me, I don't think she meant to, and I wasn't so scared. When I was clean I smelled like flowers. So I shook off as much of that flower smell as I could and lay in the sun till I was dry. She wouldn't let me roll in good stinky things though. Some people just don't appreciate good smells I guess.
I got to meet the other dogs that were there too. They told me all about something called "obedience", "agility", "play time", "helper dogs", "therapy dogs" and that we stayed busy.
Wow do we, every night I fall asleep tired on my blanket. I know all kinds of new words and I am told I am something called a Dalmatian. I guess we're so special that someone named Disney makes movies about us. I'm getting used to the car and have learned to swim. Swimming is better than baths because you don't smell like flowers when you're done. I've made friends with really nice people who help dogs like me, and have made friends with lots of dogs that came from a shelter and now are very, very important making there family happy. I try to show my gratitude every day to my lady and always look forward to my favorite words, the first words I really listened to…. "I guess your mine now Dillon".
©CCWDA 2007
Some of our Favorite groups that assist Animals:
Career change dogs.
If you are interested in adopting a Career Change Dog from Canine Care Service dogs, please email us, and our trainers will contact you when we have a dog that might be right for you. Our primary concern is to find a suitable 'match' for both the dog and the new owner.
For a variety of reasons, many of the dogs we rescue just aren't cut out to be Service Dogs, but they'd love to be somebody's faithful pet.
When a dog isn't able to complete the Service Dog program, he or she becomes a Career Change Dog, ready to be adopted to a responsible, caring home.
Each of these dogs has been screened for temperament, provided medical care, and are vaccinated.

All American Mutt Rescue: ALL-AMERICAN MUTT RESCUE, INC. is a home-based animal rescue organization that has grown out of love and compassion for animals. Located in Huddleston, VA, we are truly in the heart of Virginia – 30 minutes from Lynchburg, 30 minutes from Smith Mountain Lake, 30 minutes from Bedford, and 60 minutes from Roanoke.

Our motto is "Rescue … rehome … real love" and we try to live it every day. We rescue animals in need of new homes and loving families. We make sure each of them is spayed or neutered and up-to-date on all routine vaccinations. If other medical care or treatment is needed, we get that for them as well.
Please visit our friends at:

Special Thanks to all that assist in rescue and all their heartfelt caring that goes into each AND every animal!
We RESCUED 104 ANIMALS FOR THE 2007 year!
We've RESCUED 16 for 2009 so far!
Our motto : "Our Best Friends Have Hairy

Please look for a new friend at YOUR local Animal Shelter and Adopt.

WE DID!
Dillon "before" adoption.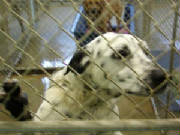 How could one resist ? -------- So very many did. Sad.
Dillon a few months after adoption...
A happy & content dog! ~~~~~~~~~~~~~~~ Loving, obedient, glad to have a home.
OUR MOTTO : " Our Best Friends Have Hairy Legs "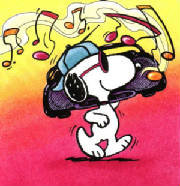 Have a Joy Filled Summer Season!
*A Canine Care Assistance Program.© LWL's All Rights Reserved. 2006. All material, photo's,artwork, articles, and content of this web site, and it's pages, and organizational links, are copyrighted to CCWDA and/or LWL's.Permission MUST be granted to use all or any part of.
"And God is able to make all grace abound to you, so that in all things at all times, having all that you need, you will abound in every good work." 2 Corinthians 9:8